Prompt identification of agitation is the first step in preventing further escalation1-3
Agitation presents along a spectrum from mild to severe1


Severe
Aggressive or violent
Moderate
Physically or verbally
threatening, but not violent
Mild
Signs of overt physical or
verbal activity, but redirectable
Look for behavioral signs, both physical and verbal, that indicate agitation3
Along the spectrum of agitation, patients display a diverse range of behavioral signs, such as angry facial gestures, foot tapping, quick answers, wringing hands, darting eyes, or pacing. Quick identification of these signs can help proactively de-escalate patients along the spectrum of agitation.1,3,4
Behavioral signs and symptoms experienced during an episode of agitation in a 12‑month period5*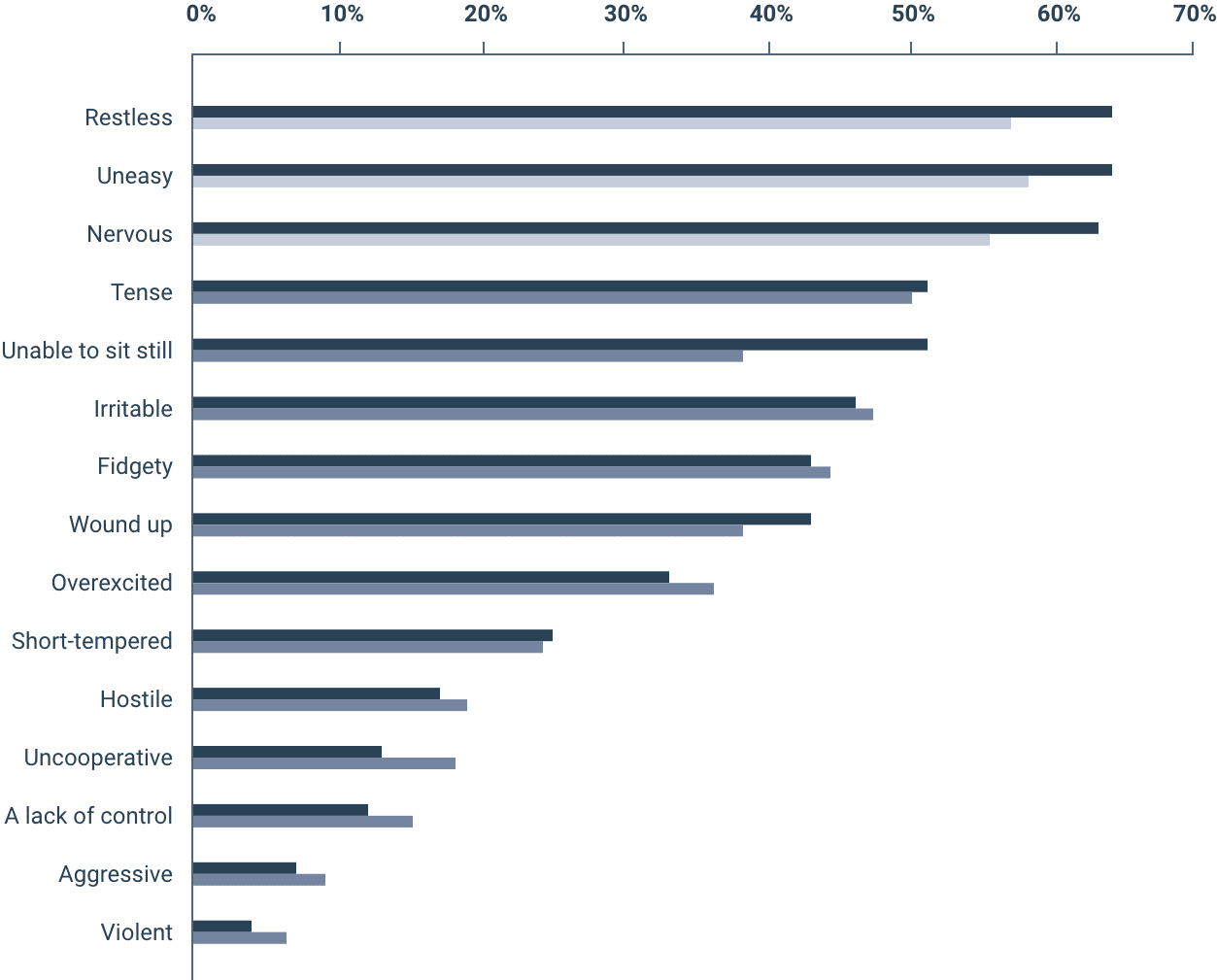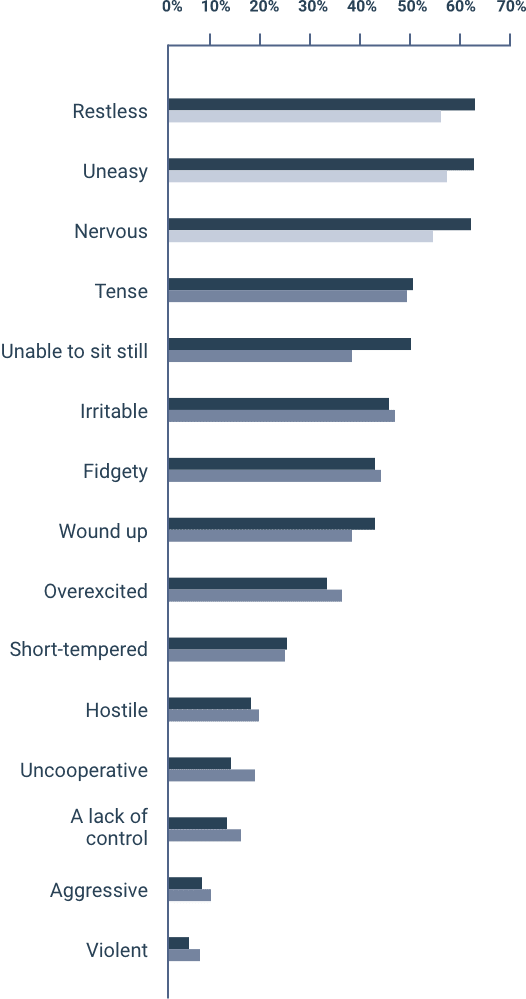 The most common behavioral signs reported were consistent with
MILD-TO-MODERATE AGITATION
*The percentages displayed are the proportion of patients with bipolar disorders or schizophrenia who stated that they "always" or "often" experience this symptom as part of an episode of agitation.
This is an open access article distributed under the terms of the Creative Commons Attribution 4.0 International License (http://creativecommons.org/licenses/by/4.0/). Adapted from Roberts J, Canales AG, Blanthorn-Hazell S, Boldeanu AC, Judge D. Characterizing the experience of agitation in patients with bipolar disorder and schizophrenia. BMC Psychiatry. 2018;18(1):107. doi:10.1186/s12888-018-1673-3 / Swapped axes and added call out
Assess agitation severity by using 5 main symptom categories6,7
The degree of agitation can be assessed by observing 5 main symptom categories, based on the Positive and Negative Syndrome Scale-Excited Component (PEC) scale, a validated tool to measure the level of agitation.





Download the Agitation Assessment Tool
A helpful resource to identify signs of agitation and assess severity.





Agitation poses a potential safety risk to patients and staff, underscoring the need for vigilance and timely intervention1
If left untreated, the opportunity to calm cooperatively may be lost3
Agitation can escalate into
verbal or physical aggression1
Agitation can lead to
physical assault
and violence1
Regardless of the severity of agitation, prompt identification and intervention are needed to help the patient regain control safely and cooperatively.3,4
HEAR Expert Perspectives ON PROMPT IDENTIFICATION
*Dr. Zeller and Dr. Zun are acting on behalf of and are supported by BioXcel Therapeutics, Inc.
References:
1. Roppolo LP, Morris DW, Khan F, et al. Improving the management of acutely agitated patients in the emergency department through implementation of Project BETA (Best Practices in the Evaluation and Treatment of Agitation). JACEP Open. 2020;1(5):898-907. doi:10.1002/emp2.12138 2. Vieta E, Garriga M, Cardete L, et al. Protocol for the management of psychiatric patients with psychomotor agitation. BMC Psychiatry. 2017;17(1):328. doi:10.1186/s12888-017-1490-0 3. Martinez-Raga J, Amore M, Di Sciascio G, et al. 1st international experts' meeting on agitation: conclusions regarding the current and ideal management paradigm of agitation. Front Psychiatry. 2018;9:54. doi:10.3389/fpsyt.2018.00054 4. Richmond JS, Berlin JS, Fishkind AB, et al. Verbal de-escalation of the agitated patient: consensus statement of the American Association for Emergency Psychiatry Project BETA De-escalation Workgroup. West J Emerg Med. 2012;13(1):17-25. doi:10.5811/westjem.2011.9.6864 5. Roberts J, Canales AG, Blanthorn-Hazell S, Boldeanu AC, Judge D. Characterizing the experience of agitation in patients with bipolar disorder and schizophrenia. BMC Psychiatry. 2018;18(104):1-8. doi:10.1186/s12888-018-1673-3 6. Kay SR, Fiszbein A, Opler LA. The positive and negative syndrome scale (PANSS) for schizophrenia. Schizophr Bull. 1987;13(2):261-276. doi:10.1093/schbul/13.2.261 7. Montoya A, Valladares A, Lizán L, et al. Validation of the excited component of the positive and negative syndrome scale (PANSS-EC) in a naturalistic sample of 278 patients with acute psychosis and agitation in a psychiatric emergency room. Health Qual Life Outcomes. 2011;9(18):1-11. doi:10.1186/1477-7525-9-18